"This has been an eight year struggle to tell our story about how Lancaster residents have enjoyed their green space. Membership of the Open Spaces Society has been invaluable during this period.  We bought a book from them very early on which was full of stories of people who had been successful in their applications too – they were people just like us!  The Open Spaces Society has been a brilliant travelling companion on our town green journey: they have been ever-present to give us information and advice on a number of legal matters along the way and have given us confidence to keep going." quote from Janine Bebbington, the successful applicant in registering Moorside Fields, Lancaster
"We have been pursuing registration since April 2008 and in the intervening years we have received support and encouragement from a number of sources including, of course, the OSS. I have found your on-line information most helpful and your direct advice invaluable".
Town and village greens are the essence of rural England and Wales. Story-book images of village greens tend to be of an expanse of grass in the centre of a village complete with oak tree and seat, or a carefully-manicured recreation ground just outside the village, where cricket is played in the lengthening shadows of a summer evening, and the villagers dance round the maypole. In fact they are much more than that, and very varied.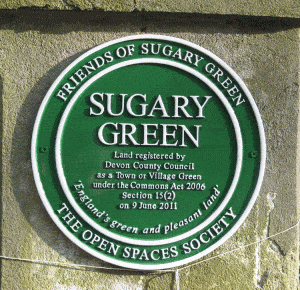 A green is any land on which a significant number of inhabitants of any area has indulged in lawful sports and pastimes, for 20 years, as of right.
We believe there to be about 3650 registered greens in England and about 220 in Wales, covering about 8150 and 620 acres respectively.
Click here to download a copy of Defra's study on the character of town and village greens.
If you are currently thinking about or trying to register a new green, and you need help and/or advice, or if you think somebody may be disregarding laws protecting village greens, why not join the Open Spaces Society, and benefit from our expert advice?
"…..no solicitor, so no fees – did it all ourselves! However, we had some very good advice and support from the Open Spaces Society and I would strongly recommend joining them immediately." quote from an OSS member who registered a green in 2011.
Please visit our Information Hub to read more about town/village greens
and the work of the Open Spaces Society