"What an impressive website, as is the work you do to ensure that rights of ways on public footpaths are kept…." a member shows their appreciation of the society's work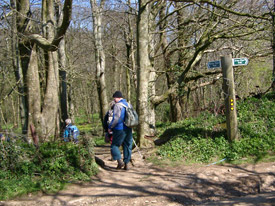 A right of way is a path that anyone has the legal right to use on foot, and sometimes using other modes of transport.
Public footpaths are normally open only to walkers
Public bridleways are open to walkers, horse-riders and pedal cyclists
Restricted byways are open to walkers, horse-riders, and drivers/riders of non-mechanically propelled vehicles (such as horse-drawn carriages and pedal cycles)
Byways Open to All Traffic (BOATs) are open to all classes of traffic including motor vehicles, though they may not be maintained to the same standard as ordinary roads.
Our Role
The Open Spaces Society is unique in representing all categories of recreational user on all types of public rights of way.
We offer help to our members on problems relating to public paths – we can help you claim a path, remove a blockage, or lobby your highway authority for instance.
The Open Spaces Society is informed of all proposals to alter the routes of these ways. We have volunteers (local correspondents) who deal with proposals in their area, and some are dealt with from the office in Henley-on-Thames.
In the areas where we have local correspondents (local to you) we oppose applications for changes to rights of way which are not overall to the public benefit.
We lobby the highway authorities (county and unitary councils) to put more money into maintaining public ways. We urge them to give priority to their statutory duty of getting them all in good order and the official map of rights of way up to date.
We consider that the discretionary power of moving paths should have low priority and we advocate that councils refuse to consider a path change unless there is a clear public benefit. Otherwise they are using their slim resources on a mere power, to the advantage of owners and occupiers rather than the public, instead of on the duty which benefits everyone.
More Information
For a more in-depth explanation of basic rights-of-way law, please visit the Ramblers' Association website here.
Rights of Way:


A Guide to Law and Practice 4th edition 'Blue Book'
by John Riddall and John Trevelyan.
Available to buy online for £29.95 plus P&P from Cordee Ltd
Find out more about this publication
Click here for supplements and updates to the fourth edition of the Blue Book
Rights of Way: Restoring the Record

A new research guide by Sarah Bucks and Phil Wadey
Full details, including How to buy, at Restoring the record
Please note that Rights of Way: Restoring the Record is completely sold out as at 23 June 2016. Phil Wadey and Sarah Bucks are working on the next edition but timing of publication will be dependent on when the regulations for the Deregulation Act are finalised. The earliest anticipated publication date is Christmas 2016. The book is not available in electronic form. Please visit Restoring the record to register your interest in receiving news updates on the second edition of Rights of Way: Restoring the Record.
Rural payments, cross compliance
In accordance with Good Agricultural and Environmental Conditions (GAEC) policy 7b, those receiving rural payments are required to keep their public paths in order.   The policy states: 'Public rights of way (public footpaths, bridleways, restricted byways and byways open to all traffic) must be kept open and accessible because they are important landscape features.' See here.  Since the Rural Payments Agency may not immediately follow up a complaint against a breach of this policy, we suggest that people encountering a problem not only report it to the highway authority but also warn the landowner, if known, that they will be reporting the breach to the RPA if the problem is not put right within, say, three weeks.  The prospect of a report and an inspection may be sufficient to encourage the landowner to rectify the problem.