"Our application was inspired by the OSS website and guided by their literature." quote from new member, August 2013.
Growth & Infrastructure Act – update 28 January 2014
The Department for Communities and Local Government's draft order to amend the existing trigger and terminating events was confirmed in the House of Commons and the House of Lords on Tuesday 28 January. The order sets out a time limit for draft plans, Local Development Orders, Neighbourhood Development Orders and Transport and Works Act Orders.The confirmed order can be read here.
The government's current guidance, updated 20 January 2014, is available to download here.
The Growth and Infrastructure Act 2013 means that, in England, it is no longer possible to apply to register land as a village green if it has been earmarked for development.  However applications which were submitted before 25 April 2013 will be processed. More information here.
Before applying to register land as a green you must not only ensure that the land fulfils all the relevant criteria (see below), but you must also check that the land has not been allocated for development.
The current version of our book, Getting Greens Registered, is available as a download. We will shortly be publishing a revised edition to reflect the changes as at 28 January 2014.
Quote from an OSS member who registered a village green in 2011:
"…..no solicitor, so no fees – did it all ourselves! However, we had some very good advice and support from the Open Spaces Society and I would strongly recommend joining them immediately."
Town and village greens are the essence of rural England and Wales. Story-book images of village greens tend to be of an expanse of grass in the centre of a village complete with oak tree and seat, or a carefully-manicured recreation ground just outside the village, where cricket is played in the lengthening shadows of a summer evening, and the villagers dance round the maypole. In fact they are much more than that, and very varied.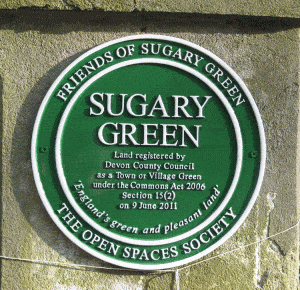 A green is any land on which a significant number of inhabitants of any area has indulged in lawful sports and pastimes, for 20 years, as of right.
We believe there to be about 3650 registered greens in England and about 220 in Wales, covering about 8150 and 620 acres respectively.
Visit our Special Features page
here
to download a copy of Defra's study on the character of town and village greens.
If you are currently thinking about or trying to register a new green, and you need help and/or advice, or if you think somebody may be disregarding laws protecting village greens, why not
join
the Open Spaces Society, and benefit from our expert advice?
For further information, please click on the links below:
Quote from a new OSS member who is applying to register a village green:
"Your site has been very useful in assisting me in my application for village green status."