Support us from £3/month
We deal with almost 1000 cases a year assisting communities, groups and individuals in protecting their local spaces and paths in all parts of England and Wales. Can you help us by joining as a member?
'While today we can celebrate the government's abandonment of plans to flog off England's public forest estate, we are not out of the woods yet. There is still a campaign to be fought.'
So said Kate Ashbrook, our general secretary at a well-attended rally in Friston Forest, in the South Downs National Park (between Eastbourne and Seaford in East Sussex) on Sunday 20 March, organised by Keep Our Forests Public.
'Although the government now has no immediate plans to sell the estate, it may starve it of cash by severely reducing the Forestry Commission's budget, which could put the management and protection of these wonderful woodlands at risk.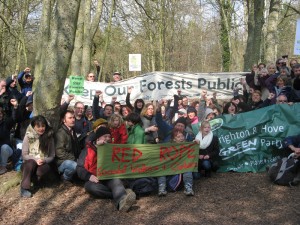 'The independent panel on forestry policy in England, announced on 17 March, is a step forward but that panel must show that it is truly free-thinking and that it can represent all the interests in forests. The Open Spaces Society has already criticised ministers for excluding riders and cyclists who are important users of the forests. Others have expressed concerns that there are no representatives from local campaign groups.
'Today we are setting the new panel the test of recommending that access to and within all our woods and forests is provided by right, for walkers, riders and cyclists—whether they are owned by private landowners or by the Forestry Commission. Permissive access is not good enough—it can be withdrawn at any time and doesn't appear on maps.
'Friston Forest, here in the South Downs National Park, is a good example of a wood which walkers, riders and cyclists can enjoy. While it is owned by the Forestry Commission, those facilities are safe, but if it were to be sold the permissive users could easily be banned. That's why we need this access secured in law.'
'After the recent campaign, ministers can be in no doubt that our woods and forests are deeply loved by the public and that there is an immense feeling for them. It is vital that we all continue to campaign for the protection of these places which are so close to our hearts,' Kate concludes.
The rally was attended by over 80 people from organisations including Keep Our Forests Public, Action for Access, Red Rope and the Ramblers.