Support us from £3/month
We deal with almost 1000 cases a year assisting communities, groups and individuals in protecting their local spaces and paths in all parts of England and Wales. Can you help us by joining as a member?
We have objected to plans by the Henley Festival for the temporary closure of the Thames Path National Trail in July 2020.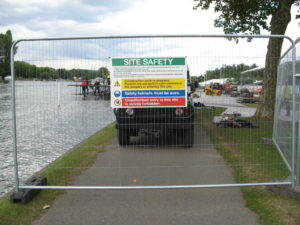 Every year since 1998 the Festival has applied to Wokingham Borough Council, the highway authority, for the temporary closure of the path before, during and after the Festival—and the council has agreed. The Open Spaces Society has consistently objected because the closure is unnecessary and the alternative route is unpleasant.
Once again, the Festival plans to ignore the public interest and shove walkers onto an inferior route away from the river. This is the Thames Path National Trail, which is visited by walkers from all over the country and from overseas. The path is of international importance.
The law requires Wokingham Borough Council to 'satisfy itself that it is not reasonably practicable for the event to be held otherwise than on a road' (ie a public footpath). We do not see why the Festival has to be held on the footpath.
We have urged the council to take a robust stance this time and ask the Festival to rearrange its activities to avoid this very special footpath.