Support us from £3/month
We deal with almost 1000 cases a year assisting communities, groups and individuals in protecting their local spaces and paths in all parts of England and Wales. Can you help us by joining as a member?
We are delighted that Waverly Borough Council has decided to defer plans to refurbish Wey Hill Fairground common at Haslemere in Surrey. The land is currently used as a car-park.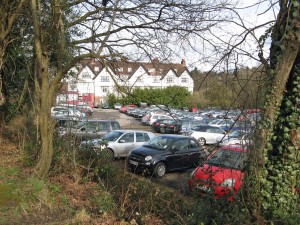 The council applied for consent for works on the common, under section 38 of the Commons Act 2006. We and many others, including the Haslemere Society, objected. After the public inquiry had been arranged, the council withdrew the application so as to rethink its plans.
Now Waverley is waiting for Haslemere Town Council and Haslemere Vision, the neighbourhood forum, to consider the borough council's proposals as part of the wider neighbourhood plan and to come up with their own suggestions for the site.
We have always felt that it was wrong to use common land as a car-park, unless the council is able to offer suitable land in exchange. It is right that plans for this common should be considered in the wider context of the town's need for open spaces.
We are sure that Robert Hunter, founder of the Open Spaces Society in 1865 and long-standing resident of Haslemere, would have approved of the community's involvement in the future of Wey Hill Fairground common.