Do you know someone who would appreciate a present that will help protect the future of accessible green spaces for all?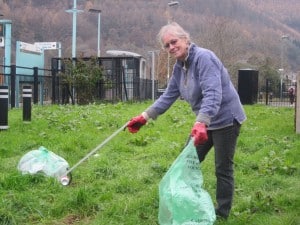 Maggie Thomas, our local correspondent for Caerphilly, has won the Environmental Champion prize in Caerphilly County Borough Council's Pride in your Place award, for her work in defending public paths and open spaces. Maggie, who lives in Crosskeys, is also membership secretary for Islwyn Ramblers.
Says Maggie: 'I was thrilled to receive this award on a personal level and on behalf of the organisations I represent. I hope that people will be encouraged to find out more about the work that the Open Spaces Society, Ramblers and the Twmbarlwm Society do and be prepared to volunteer in those and other organisations which help to improve our environment'.
Adds Kate Ashbrook, our general secretary: 'Maggie certainly deserves this award for all her hard work in helping to keep paths in order and to protect open spaces, thereby motivating people to enjoy the lovely countryside in and around Caerphilly.'