Support us from £3/month
We deal with almost 1000 cases a year assisting communities, groups and individuals in protecting their local spaces and paths in all parts of England and Wales. Can you help us by joining as a member?
The Fusilier Field at Longbenton in North Tyneside has been registered as a village green, and can be enjoyed by local people for ever more.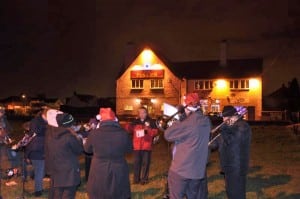 The application to register was made to North Tyneside Council by Christine Kay and Alasdair & Dorothy Wilson with support from the Fusilier Field Action Group, a member of the society.
The land is grassed and surrounded by houses, a school, cemetery land and the Fusilier pub, with a variety of access points and a walking and cycle path running east to west. The land is largely owned by North Tyneside Council.
When residents learnt that the council was putting the land up for sale with a view to developing it, they formed the Fusilier Field Action Group and gathered evidence of use in order to register the land as a green. The group joined the Open Spaces Society and we gave help and advice as well as putting them in touch with former member, Ronald Scott, who had successfully led a campaign to obtain village green status for Chadderton Field in nearby Newcastle-upon-Tyne.
The group's research indicated that use of the land had remained virtually unchanged since the 1950s and they were able to obtain extensive written and photographic evidence of such lawful sports and pastimes as football, rounders, jogging, walking, cycling, dog-walking, parents playing with children and toddlers as well as seasonal activities such as snowballing, blackberrying and Christmas carol singing.
The evidence was presented to the council and, after negotiations which resulted in a piece of land used by the Fusilier pub being removed from the application, the council raised no objection and in September agreed to register the land as a green. This means that it cannot be developed and is safe for local people to enjoy.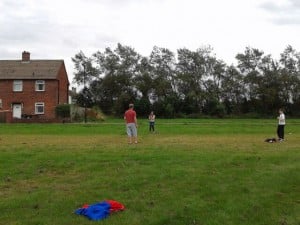 Says Chris Kay, one of the applicants and a member of the action group: 'We are delighted with this result. We all worked hard to achieve it. If we had left it any longer we might not have been eligible to register it because of the new Growth and Infrastructure Act which prevents the registration of land which is threatened with development.
'The application process galvanised the community and reflected the interests of the residents in protecting the field for the future, for informal sports and pastimes.'
Nicola Hodgson, our case officer, commented: 'We congratulate the applicants and Fusilier Field Action Group on achieving this splendid result. They have shown an excellent example to others. It is now more difficult to register land as a green, since the government passed the Growth & Infrastructure Act. We urge communities throught England and Wales to identify now any land which is eligible for registration and to apply to register it as a green before it is threatened with development. Once it is threatened, it may be too late to save it.'