Support us from £3/month
We deal with almost 1000 cases a year assisting communities, groups and individuals in protecting their local spaces and paths in all parts of England and Wales. Can you help us by joining as a member?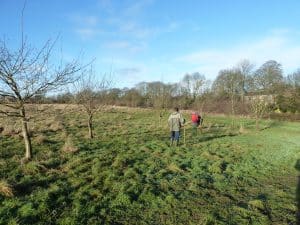 We are delighted that the Grange Area Trust has voluntarily registered Widmer Fields as a village green. This means that this 42-acre open space, at Hazlemere and Widmer End in Buckinghamshire, is saved for ever and local people have rights of recreation here.
The Grange Area Trust has been campaigning for more than 40 years to rescue the land, which has been threatened with development. Five years ago it bought the fields and now Buckinghamshire County Council has confirmed the land's registration as a village green.
In 2013 the Grange Area Trust won our national Open Space Award for its work to save the fields for the public.
This is a significant moment in the history of Widmer Fields. Village-green status secures this important site for the public for ever. Now it is safe from development and can be enjoyed by local people, and managed for wildlife and natural beauty and its potential for quiet recreation and community activities.
At 42 acres, this is one of the largest village greens in England. We congratulate the Grange Area Trust, and the activists who preceded the formation of the organisation, for their decades of dedicated work to save this special place.