Support us from £3/month
We deal with almost 1000 cases a year assisting communities, groups and individuals in protecting their local spaces and paths in all parts of England and Wales. Can you help us by joining as a member?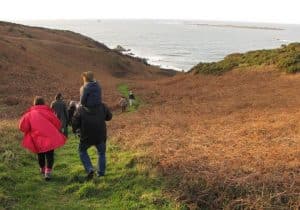 Make Christmas 2017 the year you introduce your family and friends to the Open Spaces Society by giving membership gift vouchers. The perfect present idea for walkers, riders and cyclists who enjoy the outdoors and appreciate our amazing landscapes and public paths. It starts from just £3/month or £33 for a whole year for an individual subscription and you can be assured that the money is going towards a great cause that will benefit future generations.
OSS is a small charity, that has been successfully campaigning to protect commons, village greens and public paths for over 150 years. It helps more than 600 individuals, groups and communities annually to defend their local green spaces and paths from the pressures of development and loss of public access.
A society subscription enables the lucky recipient to enjoy a regular members' magazine with campaign updates, discounts on our range of publications and the satisfaction and enjoyment that comes from helping a dynamic, campaigning charity.
Contact our membership team before 19th December for Christmas delivery on 01491 573535 or via office1@oss.org.uk