Support us from £3/month
We deal with almost 1000 cases a year assisting communities, groups and individuals in protecting their local spaces and paths in all parts of England and Wales. Can you help us by joining as a member?
We are delighted that the Supreme Court has refused to allow Leeds Group plc to appeal against the Court of Appeal's ruling that Yeadon Banks, Leeds, should be registered as a green. This means that the registration of Yeadon Banks is confirmed, and the 2.2-hectare site is safe from development.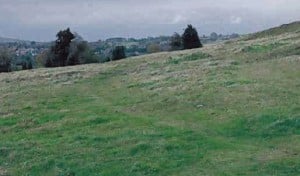 We backed the applicant for the green, Mr Doug Jones of Keep Yeadon Banks Green. After succeeding in getting the green registered by Leeds Council in 2007, he had to fight an appeal in the High Court, then two in the Court of Appeal.
Leeds Group plc, which owns this much-loved open space, was hoping to build there.
Land can be registered as a green if local people have used it for informal recreation for 20 years, without being stopped or asking permission.
Last December the Court of Appeal rejected Leeds Group's case that the landowner had been prejudiced by a change in the law for registering greens during the 20-year period during which local people had been exercising their rights there, and that it breached the landowner's right to peaceful enjoyment of his land under the European Convention of Human Rights.
Leeds Group applied to the Supreme Court for leave to appeal against this judgment. The Supreme Court ruled that the point of law was not of general public importance, it did not consider the Court of Appeal was wrong, and resolved that the matter had been exhaustively considered.
Says our case officer, Nicola Hodgson: 'We are relieved that Yeadon Banks is at last safe. It has been a long battle, involving the courts many times over. We are grateful to Doug Jones for pursuing the case with such courage and determination, and to his lawyers, Mr Robert Williams of Counsel, and Mr Jerry Pearlman of Zermansky solicitors.
'This has established an important point of law, as well as preserving a much-valued open space for the community,' Nicola concludes.