Support us from £3/month
We deal with almost 1000 cases a year assisting communities, groups and individuals in protecting their local spaces and paths in all parts of England and Wales. Can you help us by joining as a member?
Through threat of legal action, we have achieved the removal of several illegal obstructions on a public footpath at St Ervan, three miles south-west of Padstow.  Lucy Wilson, our local correspondent for North Cornwall, threatened to go to court for the removal of two unlawful gates on St Ervan footpath 16, south of Treglinnick Farm.  At the last minute, the gates were removed, and the path can now be walked easily.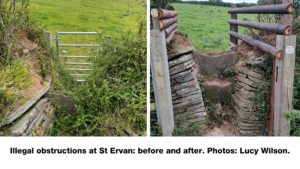 This footpath had been blocked for many years and in October 2021 the Ramblers persuaded Cornwall Council to take action in removing the obstructions.  Last year Lucy threatened legal action against unlawful crop-obstructions, which were eventually cleared.   
However, several new gates had been installed by Cornwall Council and the landowner or occupier at public expense, without the necessary consent under section 147 of the Highways Act 1980. These were therefore illegal obstructions.  They included pedestrian gates either side of an existing stone-stile in a hedge-bank, creating an obstacle course for path users.  Walkers had to negotiate three structures within a few metres, where one structure would have sufficed. 
On 16 March 2023, acting for the society, Lucy served notices on the council under section 130A of the Highways Act 1980(2).  These required the authority to respond within one month, explaining what action it would take.  If the matter was not resolved, Lucy could apply to the magistrates' court for an order requiring the council to act. 
The council responded that it would serve notice on the landowner to remove all structures within a month. 
By 16 June the gates had still not been removed, so Lucy, on behalf of the society, served notice on Cornwall Council that she intended to apply to the magistrates' court.  Shortly after, the gates either side of the stile had been removed, as had a similar arrangement at a second stile on the same path. 
Says Lucy: 'I am highly relieved that we have resolved this, and walkers can once again enjoy this pleasant footpath free from obstruction.  It was only because the society was resolute about taking court action that the council gave way and dealt with the problems. 
Adds Helen Clayton, our case officer for rights of way: 'We congratulate Lucy on her persistence.  The Open Spaces Society is always ready to take legal action where other methods fail to get paths reopened.  We hope that Cornwall Council has learnt a lesson and will be more responsive in future.'