Support us from £3/month
We deal with almost 1000 cases a year assisting communities, groups and individuals in protecting their local spaces and paths in all parts of England and Wales. Can you help us by joining as a member?
We have objected to a massive development, proposed by Gladman Developments Ltd, on open land north of Caversham.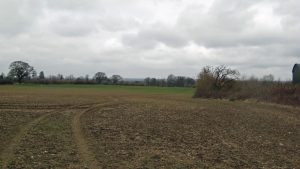 South Oxfordshire District Council refused planning consent for 245 residential dwellings and other works on land off Peppard Road, at Emmer Green. Gladman has appealed and the appeal is to be heard in May.
We have joined our members Eye and Dunsden Parish Council and the Chiltern Society, and others in fighting the plan.
The society's principal concern is the threat to the public footpath which runs across the southern part of the development site, between Bryant's Farm and the housing estate to the east. It forms part of a longer network via Row Lane, Dunsden Green and Littlestead Green.
At present, the footpath commands wide, open views, with the wooded ridge of the Chilterns visible as a long arc, from the north-west round to the north-east.
This expansive view from the path gives walkers an uplifting feeling of freedom and space. It is unusual, being so close to the town of Reading.
While the path would be retained on its existing alignment should the development go ahead, this offers little comfort when the surroundings would be so radically altered for the worse. Gone would be the extensive views; instead the path would be surfaced and suburbanised, and it would be among housing. Its unusual qualities would be lost and it would be like any other route within a developed area.
We have urged the inspector to reject the application and ensure that this very special experience for walkers is preserved.