Do you know someone who would appreciate a present that will help protect the future of accessible green spaces for all?
We have objected to a planning application adjacent to Naphill Common in the Chilterns Area of Outstanding Natural Beauty. The proposal is to erect three houses in place of one at Heatherlands on Downley Road. Naphill is about three miles north-west of High Wycombe in Buckinghamshire.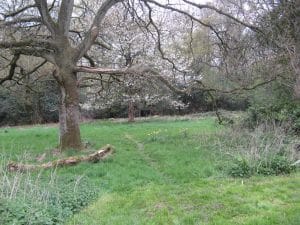 This application replaces a similar one which was submitted last year, to which we also objected with our member the Friends of Naphill Common.
We note that the development requires a new access track at the rear, over the common. The applicant does not mention this, nor does she seem to recognise that such a track is likely to require the consent of the Secretary of State for Environment, Food and Rural Affairs under section 38 of the Commons Act 2006; this is in addition to planning permission. Buckinghamshire County Council, in its response, has also made this point.
The new track would degrade this lovely common in the Chilterns AONB. Naphill Common is a beautiful area, rich in wildlife, and a place for informal public recreation. People have the right to walk over every part of the common and it is enjoyed by local people and visitors.
It has already suffered from a number of unlawful access tracks, and a further one at Heatherlands will make matters worse.
The tracks destroy the surface of the common and suburbanise it, while vehicles travelling across part of the common will disrupt the peace and tranquillity.
We know that local people, including the Friends of Naphill Common, object and we urge Wycombe District Council to reject the application.