Support us from £3/month
We deal with almost 1000 cases a year assisting communities, groups and individuals in protecting their local spaces and paths in all parts of England and Wales. Can you help us by joining as a member?
Eastbourne Borough Council plans to sell more than 3,000 acres of its downland. This land is so treasured by the public that we have termed it 'the Crown Jewels'.
The society has sent a message of support to Keep Our Downs Public which is organising a public walk and rally* on Saturday (3 December) to protest at the threat to the downs and to call on the council to halt its plans.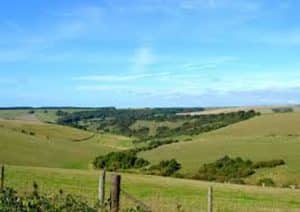 Says Kate Ashbrook, our general secretary: 'The Open Spaces Society, which is Britain's oldest national conservation body, deplores Eastbourne Council's plans to flog off its magnificent downland.
'The society was active in 1929 when the downs were acquired for the people, to be protected and treasured in perpetuity. We have always welcomed public ownership of the downs as the best way to secure their long-term protection.
'These downs are the nation's Crown Jewels, much loved not only by the people of Eastbourne but by visitors from far and wide. They are now included in the South Downs National Park, indicating how special they are. Here a tired nation can be sure to find freedom and fresh air, health and happiness. We would not sell the Crown Jewels, so we must not sell Eastbourne's downlands.
'The Open Spaces Society supports Keep Our Downs Public in its brilliant campaign to save the downs for the people.'
The land was acquired by Eastbourne Council to 'secure free and open use of the Downs in perpetuity.'
The farms which are for sale are Chalk Farm, Willingdon; Black Robin Farm; Bullock Down Farm behind Beach Head, and Cornish Farm near Birling Gap. They total 3,183 acres which is 76 per cent of the total public estate of 4,200 acres.
*The walk starts from Beachy Head car park at 10.15 am with photo call at 10.30 and three mile circular walk with stops for speakers.