Support us from £3/month
We deal with almost 1000 cases a year assisting communities, groups and individuals in protecting their local spaces and paths in all parts of England and Wales. Can you help us by joining as a member?
We have joined the call for a 30-mph speed limit on the A44 road where it crosses Bringsty Common in Herefordshire.  The present speed limit is 50 mph.
The current speed-limit allows vehicles to travel far too fast along this dangerous, winding road, which risks the lives of those using the tracks which lead onto and off the road, as well as the grazing animals.  In fact, the road is a barrier to the commoners to graze stock there, with the result that the vegetation grows too high, making the problem of visibility worse.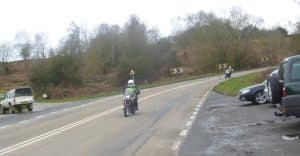 The Open Spaces Society has written to Mr Alistair Neill, chief executive of Herefordshire Council, the traffic authority, to call for the imposition of an enforced 30-mph speed limit on this stretch of road, in the interests of residents, commoners and the animals.
Bringsty residents and the Bringsty Common Manorial Court are also campaigning for a lower speed-limit.
Commons are special places, they have remained unenclosed through history and provide vital habitats for wildlife and places where the public can roam freely.
Bringsty Common is a fine place with significant potential for biodiversity; its natural habitat of grassland, wetland and woodland is maintained by grazing animals.  But the animals are now at severe risk from speeding traffic on this lethal road.
We can only resolve this by having a 30-mph speed limit here.  We shall seek the support of Natural England in asking for this to be introduced.