Support us from £3/month
We deal with almost 1000 cases a year assisting communities, groups and individuals in protecting their local spaces and paths in all parts of England and Wales. Can you help us by joining as a member?
Our case office, Nicola Hodgson, has helped to craft this Vision for Planning document which was launched at an event on 14 January attended by the housing minister, Chris Pincher. Eighteen organisations representing housing, planning, transport, the environment, heritage and public health, came together to promote an alternative vision to the government's Planning for the Future white paper, published last year.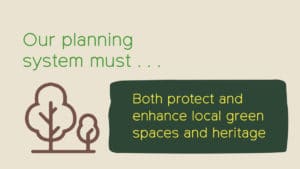 Nicola has contributed to the sections where open space and access are considered. She says: 'Government, local authorities and our communities must all work together to provide everyone with access to good-quality green space close to home. This is a vital element of a green recovery following the pandemic. It is essential the government ensures that changes to the planning system are not at the expense of the open green spaces which people value and visit in their neighbourhoods. These precious open spaces must be adequately funded and protected.'
The society continues to promote its charters for open spaces in England and Wales, which were published last year, and it responded to the Planning for the Future consultation in October.  Its response focused in particular on the practical steps that will make access to good-quality open space close to home and available to all, regardless of people's location, income or physical ability.
Our Charter for England's open spaces can be read here.
Our Charter for Wales open spaces can be read here.
A recording of the event can be watched here.