Support us from £3/month
We deal with almost 1000 cases a year assisting communities, groups and individuals in protecting their local spaces and paths in all parts of England and Wales. Can you help us by joining as a member?
The outstanding natural beauty of Sugary Green (near Castle Cove, Dartmouth) and its breathtaking view of the mouth of the river Dart have been protected for ever.
When a major development of the site, with infrastructure and parking, was proposed in 2009, local publisher Richard Webb formed The Friends of Sugary Green, an action group with well over a hundred members, some from as far away as London and Australia, to safeguard this open space. An application was then made to Devon County Council to register it as an official town or village green under the Commons Act 2006.
After nearly two years of battling red tape – and even an objection from South Hams District Council – the applicants received the welcome news that the application had at last been successful.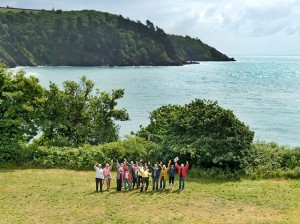 Richard Webb says, 'The Friends have given support and encouragement throughout and I am delighted that we have finally achieved our goal. Sugary Green is now legally protected from development and will remain a very special and peaceful place for present and future generations to enjoy'.
Local resident and dog walker Mrs Rosemary Caddy adds: 'What wonderful news—the peace and serenity of Sugary Green mean a great deal to so many. I should like to thank everybody who expressed support and especially Richard for so patiently conducting such a long and successful campaign on our behalf'.
We gave valuable advice throughout the process and our case officer, Nicola Hodgson, says, 'We congratulate the applicant and local people on the successful registration of Sugary Green. The land will be preserved for the use and enjoyment by the people of Dartmouth, now and for evermore.'