Do you know someone who would appreciate a present that will help protect the future of accessible green spaces for all?
'Southborough Common is a jewel', says Kate Ashbrook, our general secretary. Kate visited the Kent common on 8 February and then spoke at a public meeting organised by Kent High Weald Partnership which is consulting local interests on the future of the common.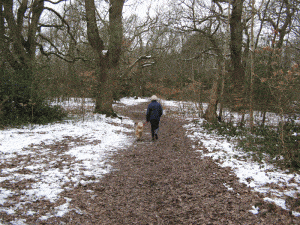 'Common land is immensely special,' says Kate. No other land type has such public value—for their flora and fauna, archaeology, history and culture, and for public enjoyment. Commons have remained undisturbed through history and are a wonderful survival of a past way of life when people depended on the local common for grazing their animals and collecting wood for their hearths.
'But with so many interests in the common, they are at risk of becoming battlegrounds when an owner proposes to introduce a new form of management.
'We strongly commend the approach taken by the Kent High Weald Partnership, with the landowner Southborough Town Council, in consulting local people about what they value about Southborough Common, what the problems are and how they might be resolved. The Partnership has followed the Open Spaces Society's guidance in seeking a consensual solution and not rushing into making changes.
'Southborough Common is loved and valued by those who live nearby and enjoy it regularly for quiet recreation. It has immense nature conservation interest too.
'We feel confident that all those who care for the common will be able to agree and implement a plan for its future and provide a model for commons management for others to follow,' says Kate.