Support us from £3/month
We deal with almost 1000 cases a year assisting communities, groups and individuals in protecting their local spaces and paths in all parts of England and Wales. Can you help us by joining as a member?
The Open Spaces Society is holding an open day on Saturday 3 September, to explore some of the exquisite countryside around Harrow-on-the-Hill.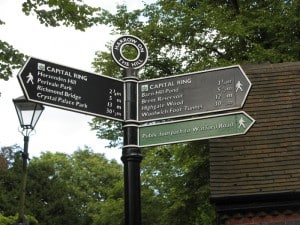 Our members, the feisty Northwick Park Group, are hosting us at St Cuthbert's Church Hall, 214 Carlton Avenue West, Wembley HA0 3QY, from 11.30am.
In the morning there will be talks about the fascinating history of Harrow and its environs; current issues facing the Open Spaces Society; and the battle to reopen blocked paths across Northwick Park Golf Course and Harrow Schools' grounds.
In the afternoon there is a three-mile (easy) walk, to inspect the blocked paths and to savour the delights of Harrow-on-the-Hill with an informed guide.
Features include the plaque to mark the first recorded motor accident in Great Britain involving the death of the driver; and another to commemorate Anthony Ashley Cooper's (later Lord Shaftesbury) conversion to charitable work (in 1869 he co-founded the Charity Organisation Society with one of our founders, Octavia Hill); the historic and beautiful St Mary's church with its Norman door; and the tomb where Byron penned 'Lines written beneath an elm in the churchyard of Harrow' with its extensive views.
We then return to the Church Hall for a cream tea.
We welcome non-members as well as members, but we need to know if you are coming. Please complete and return the application form here.
If you would like further information please contact us on 01491 573535 or email ellenfroggatt@oss.org.uk.