Support us from £3/month
We deal with almost 1000 cases a year assisting communities, groups and individuals in protecting their local spaces and paths in all parts of England and Wales. Can you help us by joining as a member?
On 19 April a public inquiry opens into plans by the Nettlebed and District Commons Conservators to erect more than two kilometres of fencing around the lovely Kingwood Common in the Oxfordshire Chilterns. We are among the objectors.
The society has objected on three counts.
1. We believe that the law does not allow Kingwood Common to be fenced. It is a special common with its own Act of Parliament, the Nettlebed and District Commons (Preservation ) Act 1906, which imposes a duty on the conservators to 'keep the commons uninclosed and unbuilt on as open spaces for the recreation and enjoyment of the public'.
We consider that fencing can only be authorised if the conservators first go to parliament to get the Act amended. Lawyers for the Department for Environment, Food and Rural Affairs (Defra) appear to agree with this view.
2. Notwithstanding that fencing cannot be authorised, we consider that there is no justification in the common's management plan for the large-scale fencing enclosing about 60 hectares of woodland, grassland and heathland, merely to allow four to six cattle to graze the area for a short period each year.
The fencing will be ugly and visible in many places, and will restrict people's rights to walk and ride over the whole area as well as being a psychological barrier to access.
The society has frequently argued that the best way to proceed is to use small enclosures with temporary fencing, to test the success of such a project before going for a large-scale plan. Such enclosures can be erected without ministerial consent, under the exemptions procedure in section 43 of the Commons Act 2006. This has already been done successfully on Turville Heath Common in Bucks for example.
3. The conservators have failed to consult the Open Spaces Society and other organisations, as recommended in Defra's guidance.
Says Kate Ashbrook, our general secretary: 'We deeply regret that the conservators have gone ahead with this controversial scheme, which may well be unlawful in any case, without proper consultation and without first testing whether what is proposed will work.
'They should first have carried out trials, then if they wished to proceed with a larger plan they should have sought to amend their Act of Parliament and carried out full consultation. Instead they have tried to impose their will on the community and the many people who walk and ride the common and cherish its beauty and wild qualities.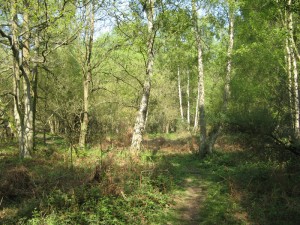 'We trust that the public inquiry inspector, Heidi Cruickshank, will reject the application, both because such fencing would be unlawful and because it is highly undesirable and contrary to the public interest.'
The society is represented at the inquiry by member Mr Mark Saunders.