Support us from £3/month
We deal with almost 1000 cases a year assisting communities, groups and individuals in protecting their local spaces and paths in all parts of England and Wales. Can you help us by joining as a member?
Kate Ashbrook, our general secretary, unveiled a plaque on Sugary Green, Dartmouth in south Devon on Friday 9 December, to celebrate registration of the land as a village green last June, and its protection from development.
When the land near Castle Cove was threatened with major development in 2009, local publisher Richard Webb formed the Friends of Sugary Green and, with help from the Open Spaces Society and in particular our case officer, Nicola Hodgson, applied to Devon County Council to register it as a green. The landowner South Hams District Council objected but backed down after its legal arguments were challenged.
Said Kate Ashbrook: 'I am immensely proud to unveil this plaque which records our joint success in saving this very special and much-loved spot. I congratulate the Friends on their vision and tenacity in securing this green.
'Sugary Green is set in an outstanding landscape, here on the beautiful south Devon coast. It has been enjoyed since at least 1945 for a wide range of informal activities, from tobogganing and ball games, to blackberrying, barbeques and astronomy. It is a magnificent asset to the community as well as to the thousands of visitors to this popular area.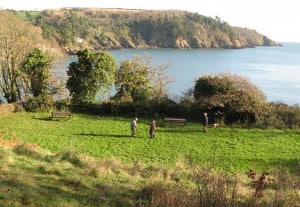 'But we fear for the future of green spaces. The Department for Environment, Food and Rural Affairs (Defra) has recently consulted about changing the law for the registration of new greens. It suggests there should be a "character test" so that land which does not conform to the traditional, village-centre, chocolate-box type of green might not qualify. That test could have ruled out Sugary Green. The society is leading the campaign to rescue the law and ensure that it is not radically altered.
'We urge the Friends of Sugary Green to join the crusade to save our town and village greens—and we hope that the people of Dartmouth will continue to enjoy informal recreation for evermore on the lovely Sugary Green,' Kate concluded.