Support us from £3/month
We deal with almost 1000 cases a year assisting communities, groups and individuals in protecting their local spaces and paths in all parts of England and Wales. Can you help us by joining as a member?
Our general secretary, Kate Ashbrook, considers how commercial exploitation is threatening our parks and green spaces.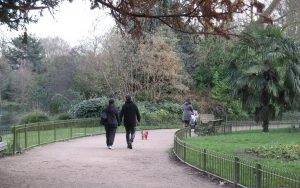 As I walked through Battersea Park in the February sunshine I found it hard to imagine what it would be like here in July.  Then the quiet roads around the park will be converted into a motor-race track for the international Formula E event and most of the park will be closed to the public.
Formula E is not the only threat to London's parks: Ealing Council is backing a boozy Oktoberfest on Acton Green common, and last year Lambeth allowed a festival on Clapham Common, converting a green space into a mudbath.
Such events are in breach of the Greater London Parks and Open Spaces Order 1967 which outlaws certain activities on London's commons and in its parks and requires ministerial consent for any works, including temporary ones, on the commons.  But the London Boroughs of Wandsworth, Ealing and Lambeth, and possibly others, don't seem to care.
Big business
It's all about attracting big business and commercial sponsorship at the expense of quiet enjoyment.  Many parks were created in Victorian times to satisfy the human need for fresh air and tranquillity in an increasingly dense urban area.  That need is greater now than ever.
Of course local authorities are strapped for cash. Of course they must find savings and generate income.  But they should not do so in ways which conflict with the ethos of those far-sighted people—some of them our founders—who secured these open spaces in the first place.
Lambeth Council has the effrontery to propose guidance for increased sound levels at outdoor events on open spaces.  It has rejected the current sound-limits because they 'will not enable Lambeth to attract or retain major commercial events … and achieve the income required for reinvestment'. Money has more decibels than peace and quiet.
Tested
A recent report, Learning to Rethink Parks, by the Heritage Lottery Fund, Big Lottery Fund and NESTA (National Endowment for Science Technology and Arts), found new ways to raise income and reduce costs for public parks in the face of budget cuts.
Their recommendations include greater involvement of park users, local businesses and residents in the design and delivery of ideas; encouragement of innovation; collaboration across sectors, and testing ideas with small-scale prototypes.  Despite the management speak, this is common sense.
The report does not propose sacrificing the parks to international motor-races, or noisy, muddy 'festivals'.
There is massive evidence that green spaces are essential for people's health and well-being. Local authorities should stop trying to sell off or exploit their parks and instead work with residents and others to make them better.