Support us from £3/month
We deal with almost 1000 cases a year assisting communities, groups and individuals in protecting their local spaces and paths in all parts of England and Wales. Can you help us by joining as a member?
We have published a new book, Village Greens, to celebrate the fascinating village greens of England and Wales.  It is written by our chairman, Graham Bathe.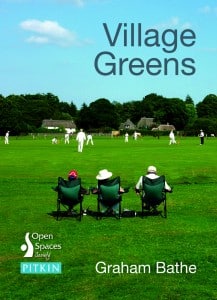 The book appears at a time when our green spaces have never been more threatened—by development, sale by local authorities, commercial abuse, neglect and lack of funding.  Yet paradoxically they have never been more important for informal recreation and games, and as a boost to our health and well-being in an increasingly urban world.  Our town and village greens, which have survived through history, have a special place in our culture.
Says Graham: 'There can be few more evocative images than the traditional village green.  Greens have been part of our history for over a thousand years as places of recreation and celebration.
'I hope that people will enjoy reading about the fascinating story of our greens, and exploring the opportunities that still exist today to establish and protect village greens.'
Informal recreation
Village greens are, in law, land on which local people have enjoyed informal recreation, without being stopped or asking permission, for at least 20 years.  We advises our members and the public on how to apply to register land as a village green, to secure the rights of local people to enjoy the land for informal recreation, and to protect it from development.
In England the law was recently changed to outlaw the registration of land which is already scheduled for development.  The society urges communities to identify now any land which might qualify, to collect evidence of use over a 20-year period, and to make an application to register the land before it is too late.
The book tells the story of greens through history, explains their distribution, variety and different uses, and records their festivities and wildlife.  It gives an outline of the laws which protect greens and encourages readers to think about creating new greens for the future.
The book is available here.