Support us from £3/month
We deal with almost 1000 cases a year assisting communities, groups and individuals in protecting their local spaces and paths in all parts of England and Wales. Can you help us by joining as a member?
A public footpath in Windsor has been recorded correctly on the official map and reopened to its full width after having been fenced in.
The footpath runs between Priors Road and Keepers Farm Close on the west side of Windsor.  The addition of the path to the Royal Borough of Windsor and Maidenhead (RBWM) definitive map of public paths followed a public inquiry in October 2015.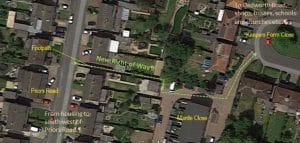 The route had been walked for 50 years, since the properties in and around Priors Road, known as the Keepers Farm Estate, were built.  This was sufficient evidence to show that it should be recorded as a public footpath on the map.  Although no one objected to the addition of the path to the map, local people objected because the evidence showed that it should be recorded at a greater width.  A public inquiry was held to determine this.
RBWM said that the path should be recorded as largely 1.5 metres wide, with part of the route varying between 1.5 and 1.7 metres.  The public inquiry inspector, Helen Slade, agreed with the objectors that different sections of the path should be recorded at different widths: 1.8 metres, 2.4 metres and 4 metres, from west to east.
Once this was confirmed, RBWM as highway authority had a duty to ensure that the path was available to its full width.  The result is that new fencing outside 38 Priors Road, which was encroaching on the footpath, has been removed so that the route can now be fully enjoyed.
We advised local people in their efforts to record the route correctly.
We are delighted that the correct route is now recorded on the official map, and that the path is recognised to its full, statutory width.  Public footpaths are highways in law, just like any road, and it is an offence to encroach up on them.  The fencing made the path feel intimidating.  Now that the path is available to its full width it is welcoming and safer for users.'
Says Steve Conway, one of the local campaigners: 'I am hoping to get the path named "Neighbours Way", partly in honour of Philip Neighbour who has lived in the road since the estate was built and helped to create the path originally, and partly because the path is central between the north and south estates and the schools, churches and shops and is therefore used generally by neighbours.'