Support us from £3/month
We deal with almost 1000 cases a year assisting communities, groups and individuals in protecting their local spaces and paths in all parts of England and Wales. Can you help us by joining as a member?
A massive development, proposed by Gladman Developments Ltd, on open land north of Caversham has been turned down following a public inquiry.
The inspector, Mr Nick Palmer, rejected Gladman's appeal against South Oxfordshire District Council refusal of planning consent for 245 residential dwellings and other works on land off Peppard Road, at Emmer Green.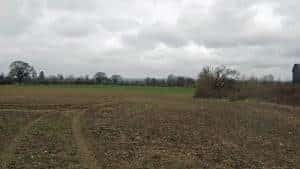 We joined our member Eye and Dunsden Parish Council, the Chiltern Society and others in fighting the plan, in particular because of the adverse effect on public paths and people's enjoyment of this beautiful countryside.
The society's principal concern was the threat to the public footpath which runs across the southern part of the development site, between Bryant's Farm and the housing estate to the east. It forms part of a longer network via Row Lane, Dunsden Green and Littlestead Green.
The footpath commands wide, open views, with the wooded ridge of the Chilterns visible as a long arc, from the north-west round to the north-east.
The inspector walked the paths and agreed with the objectors, stating (paragraph 34) that 'having walked the routes it is clear to me that the development would have very significant effects from a number of public viewpoints'.
We wholeheartedly agree with the inspector. This path would have been surrounded by buildings and converted into an urban route. We are relieved that the network will be retained, open and unspoiled on the edge of the Chilterns Area of Outstanding Natural Beauty. The paths are particularly important because they are close to Reading and provide green lungs for those living in the town.
The decision letter is reference APP/Q3115/W/17/3185997, 13 November.