Support us from £3/month
We deal with almost 1000 cases a year assisting communities, groups and individuals in protecting their local spaces and paths in all parts of England and Wales. Can you help us by joining as a member?
On Saturday 16 November more than 150 people, from Henley-on-Thames and beyond, joined a rally to protest at the year-long closure of Fawley footpath 12 due to a missing footbridge at Fawley Court in Buckinghamshire.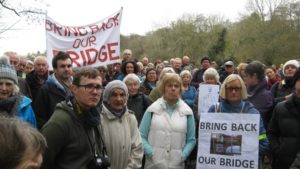 The closure is forcing walkers onto the dangerous A4155 Henley-to-Marlow road.
The protest was organised by the Ramblers Henley and Goring Group and Henley Walkers Are Welcome, with support from the Open Spaces Society and Chiltern Society.
The walkers, displaying banners, processed from Henley as far as the barricade across the footpath, south of the missing footbridge. Beyond this point the path is closed by a traffic regulation order*. The rally showed the strength of feeling among local people at the loss of the path and the danger to walkers in using the alternative route.
Says Kate Ashbrook, our general secretary: 'We have been pressing Buckinghamshire County Council to replace the bridge but nothing has happened for well over a year, and the path has remained closed by a traffic regulation order.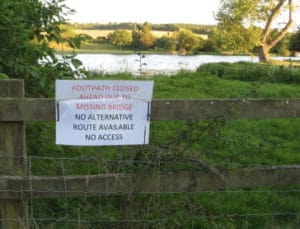 'This is deeply frustrating not only for people from Henley who enjoy walking along the river, but also for those who are planning a circular walk, taking in Hambleden Lock and the hills behind. Their fabulous walks are thwarted by this closure.
'We have written to Ms Aida Dellal of Fawley Court to ask her to assist in the reopening of the path, and to provide a temporary, safe, alternative route for walkers. We have not yet had a reply.
'We shall keep up the pressure for the reopening of this vital footpath.'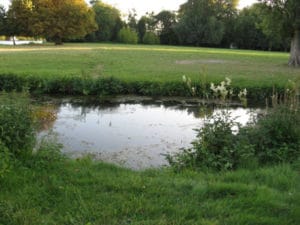 * Traffic regulation order (TRO): Under section 14 of the Road Traffic Regulation Act 1984 traffic authorities (ie Bucks County Council) have power to make temporary TROs to restrict or prohibit the use of roads, including footpaths, because of the likelihood of danger to the public. There is no specified procedure for objections. The order lasts for six months but the Secretary of State for Transport can grant an extension and again there is not set procedure for the public to be notified or for objections to be heard.
The Fawley TRO has been extended to 16 December 2019 and can be extended again for as long as the transport secretary sees fit.