Support us from £3/month
We deal with almost 1000 cases a year assisting communities, groups and individuals in protecting their local spaces and paths in all parts of England and Wales. Can you help us by joining as a member?
The society has established the Find Our Way fund, to support those who are investigating unrecorded historic ways with a view to applying for them to be added to the definitive maps of public rights of way.  This work is now urgent, as applications must be made before 1 January 2026 or the routes could be lost for ever (see here).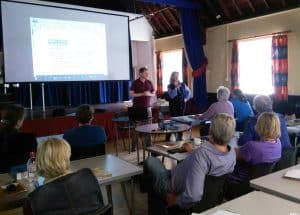 On Sunday 5 June we held a training session for our members and others near Chepstow.  The seven-hour day was run by experts Phil Wadey (our vice-chairman) and Sarah Bucks and was packed with information. The event proved popular, with 23 volunteers signing up from the Welsh counties of Bridgend, Caerphilly Carmarthenshire, Monmouthshire, Newport and Vale of Glamorgan, and in England from Bristol, Ealing, Gloucestershire, Norfolk, Wiltshire and Worcestershire.
It was very much a crash course, and we learnt how to carry out research and then apply for routes.  We were even given a template to help us make our applications.  It was extremely practical and we left the St Arvans Memorial Hall with sufficient information to make an immediate start.  Phil and Sarah encouraged us to form groups and identify a co-ordinator to make the work more efficient and to avoid duplication of effort.
We are grateful to Chepstow Walkers Are Welcome, who were there in force, for finding us the hall and the excellent caterer, Rita.  It was good to meet volunteers from other organisations and to learn how we can work together to rescue those unrecorded routes before it is too late.