Support us from £3/month
We deal with almost 1000 cases a year assisting communities, groups and individuals in protecting their local spaces and paths in all parts of England and Wales. Can you help us by joining as a member?
The Herbrand Walk Beach Preservation Society, a member of the OSS, has achieved registration of a bank of natural shingle, south of Herbrand Walk, Cooden, Bexhill-on-Sea in East Sussex, as a village green. The shingle is 463 metres in length by an average of 30 metres in width above the mean high-water mark.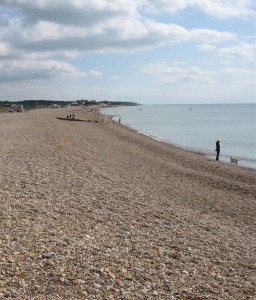 The land had been used by local people for many years and in early 2010 the Herbrand Walk Beach Preservation Society was formed, attracting 600 members, to try and preserve the area for local people to continue to use, following two failed planning applications to develop the area.
In May 2010, with our help, the society submitted an application to the registration authority, East Sussex County Council, supported by 100 witness statements detailing how local people had used the land.
There was one objection, from the owner of most of the land, Mr Steve Hall.
Following consideration of additional information on the legal effect of notices erected in 2009, a panel of councillors decided, on 25 May 2011, that the land should be registered.
Says Nicola Hodgson, our case officer: 'We congratulate members of Herbrand Walk Beach Preservation Society for all the hard work they have put in to providing such detailed and good-quality evidence of their use of the land.
'Local people will now be able to continue to use the land as they have done for many years, and it has been protected for future generations to enjoy'.