Support us from £3/month
We deal with almost 1000 cases a year assisting communities, groups and individuals in protecting their local spaces and paths in all parts of England and Wales. Can you help us by joining as a member?
We have objected to a plan to move the historic footpath leading to the cottage where Thomas Hardy's fictitious heroine, Tess of the d'Urbervilles, was born and brought up.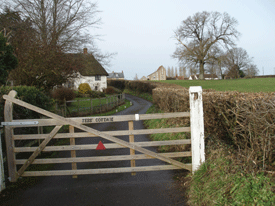 Dorset County Council has received an application from the owner of Tess Cottage (formerly Barton Cottage) to move Marnhull footpath 25, which currently follows an historic lane, into the neighbouring field.
The Thomas Hardy Society has also objected, in particular because of the historic and literary significance of this route, which was mentioned as being ridden by Alec d'Urberville in Hardy's novel.
Says our general secretary, Kate Ashbrook: 'We deplore the attempt to shift this important path to an inferior route.  This route is an invaluable piece of Hardy heritage.
'The path is illegally blocked at its northern end by a wire fence and overgrown hedge.  Dorset County Council has a legal duty to remove obstructions on public paths, but instead it is promoting a diversion of the path around the problem.  We consider it should carry out its duty.
'The existing route passes close by the cottage which can barely be seen from the diversion route because of trees and a thick hedge.  Moreover, the diversion route is often muddy, because it is in a field grazed by cattle, whereas the current route is along an ancient trackway connecting two hamlets.
'In the light of our objections, we trust the county council will tell the landowner that it does not support the plan to move the path, and that it will instead remove the illegal obstructions so that everyone can enjoy this historic, literary route,' Kate concludes.
Marnhull is six miles south-west of Shaftesbury.  The cottage is at Walton Elm to the south of the village.