Support us from £3/month
We deal with almost 1000 cases a year assisting communities, groups and individuals in protecting their local spaces and paths in all parts of England and Wales. Can you help us by joining as a member?
Our vice-president Len Clark is 100 today, 19 August.  Our general secretary has written a blog in celebration and we have reproduced it below.
Every blog I have so far written to celebrate a friend's centenary has been posthumous.  This one is different.  Len Clark, loved and admired by the amenity movement, is 100 today—and very much still alive!  From his home in Farncombe, Surrey, he keeps his finger on the pulse and reads everything which comes his way.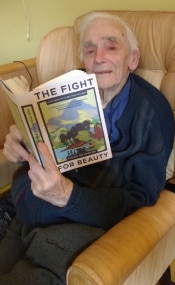 I visited him a few weeks ago with Fiona Reynolds, former director-general of the National Trust and author of The Fight for Beauty (which Len has read).  I arrived first and Len said to me:  'We run two seminars here, one on the fight for beauty and the other on the future of the Labour Party'.  We were just settling in to a discussion about the Labour Party when Fiona and her husband Bob Merrill arrived.
Len has been a pillar of strength to, and wise critic of, numerous organisations: the Youth Hostels Association, National Trust, Campaign for National Parks and the Open Spaces Society (OSS) for instance.  So often we have turned to Len for advice and he never fails us.
I first met Len in 1978 when I became a committee member of the OSS and Len was the Commons Liaison Officer, a roving researcher.  He travelled England and Wales on his motorbike, exploring commons and ferreting out the issues which affected them.  This was the time when commons seemed to be in the doldrums after the Commons Registration Act 1965 and the long-awaited second-stage legislation for management and access was clearly not going to happen in a hurry.
Evocative
Len wrote reports of the commons in each county with evocative descriptions.  His comment on Wiltshire is typically sardonic:  A large county with very little common land, which may explain, charitably, the somewhat surprising response to the basic enquiry made to the county solicitor who said: 'The objective of the registration of commons is to sort out ownerships etc so that the land may be enclosed and brought into production.' Little wonder that the county is not in favour of a general right of public access to commons.
And his comment on the Carmarthen commons on and around the Black Mountain which 'are in three groups of registrations (reminiscent of the opus numbers of the Beethoven string quarters, early, middle and late)'.
Len helped to develop the case for comprehensive legislation on common land.  His work was one of the catalysts for the formation of the Common Land Forum in 1983, of which he was the secretary and which two and a half years later published a report—though legislation was still a long time coming.
His motorbike also came in handy when he was on the properties committee of the National Trust:
When the trust's land agent, Peter Mansfield, began to string together a succession of headlands, farms and abandoned industrial sites [for National Trust acquisition] in the 1980s, he often found his colleagues and the committees sceptical or straightforwardly obstructive.  However, he also found powerful allies in … Len Clark, who would come down on his motorbike whenever there was the prospect of a piece in the jigsaw coming up for sale, and who could be relied on to swing any committee with an irresistible mixture of understatement, modesty and an understanding of the feelings of the ordinary trust members and supporters.1
Abergwesyn
Len was keen for the National Trust to acquire countryside rather than stately homes, and he was particularly excited by the opportunity to buy the Abergwesyn Commons, 16,000 acres in mid Wales.  A committee member is said to have observed: 'If Len wants it, we had better let him have it'—which fortunately they did.
Various writers have commented that Len was just what the National Trust needed (unlikely though it may have seemed among the rich and titled), and that 'his instinct for getting to the heart of a problem and his wise advice, laced with witty comments, continued to be much in demand' even after his retirement from the various committees.2
Len was born in London but soon began hiking in the Chilterns (inspired by a series of walks in the News of the World).  He left Highbury Grammar School at the age of 16 to work for London County Council moving through various departments.  But his main leisure pursuits were walking, youth hostelling and classical concerts.  He is a socialist, a pacifist and a Quaker.  His early years are described in his book Out of the Wind, recollections of a sheltered life—a modest title for an insightful and fascinating book.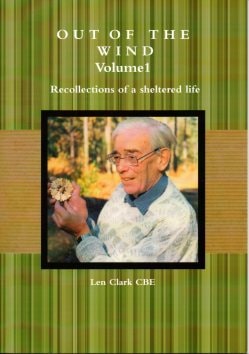 South Downs Campaign
The campaign to make the South Downs a national park was revived in the early 1990s and Len was at its heart, having served on the Sussex Downs Conservation Board.  He worked tirelessly with the South Downs Campaign, a consortium of organisations, and eventually they achieved their fabulous goal.  When Hilary Benn confirmed the national park in Ditchling on 12 November 2009, Len was there. Hilary was astounded to learn that Len had been present in the public gallery at the second reading of the National Parks and Access to the Countryside Bill in 1949—and that it was his first evening out with his future wife Isobel.  As Len has written, 'a sort of symbolic pledge to our common concerns'.
Len writes of his first encounter with the South Downs, in about 1939 when he was on a solo trip to Sussex staying in youth hostels.  After a solitary supper he climbed to Chanctonbury Ring and was struck by the breathtaking view.  He has never forgotten the experience.
I cannot do justice to Len in this small space.  I urge you to read his blog, for he has embraced the computer age. It is full of aperçus and is a great read.
This story made me laugh, of his days on the Landscape Advisory Committee of the Department of Transport when they provided him with accommodation in a hotel in Cheltenham:
Not having been familiar with hotels (rather than youth hostels!) I assumed that the card hanging on my doorknob indicating breakfast requirements was to assist the catering staff in preparation.  I duly completed it and had left it on the handle before going down to breakfast.  On return I found a second breakfast awaiting me—room service!
Happy birthday Len.  Thank you for all you have given to so many of us in your long life—and may you enjoy many more birthdays.