Support us from £3/month
We deal with almost 1000 cases a year assisting communities, groups and individuals in protecting their local spaces and paths in all parts of England and Wales. Can you help us by joining as a member?
We are disappointed that the Planning Inspectorate has approved an appeal against Anglesey Council's refusal of a planning application for a new dwelling at the rear of Penmarian Mawr, Llangoed. The development is in the designated Area of Outstanding Natural Beauty (AONB) and includes a new access across registered common land.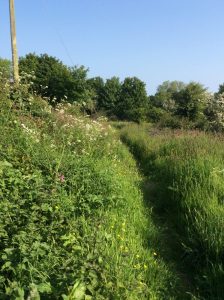 We were among the objectors to the application. The society argues that the access track, which already exists, would need consent under section 38 of the Commons Act 2006 for works on common land if it is to have a sealed surface, otherwise it would be unlawful.
There is also the question of whether the applicant has the right to drive across the common, which is normally an offence under section 34 of the Road Traffic Act 1988.
The planning inspector Iwan Lloyd, following a hearing on 19 July, has issued his decision letter on behalf of Welsh Ministers. He states that he has no enforcement powers in relation to the alleged unauthorised works and that he must assume that what he saw during his visit was 'established and legitimate'.
However, he does say that if it transpires that such works are not legitimate and no consent is forthcoming, the planning permission granted by the appeal cannot be implemented.
We consider that this development will mar this beautiful landscape with its fascinating historic features including the lovely common.
In the meantime, Anglesey Council should inform the applicant that he cannot make up the track without obtaining section 38 consent for works on common land, which must be sought from Welsh Ministers. That legislation was intended to give commons protection from development and encroachment.
The inspector's decision highlights a flaw in the commons legislation. We have long argued that there should be a duty on local authorities to take action against unauthorised works on common land. In our recent manifesto for the new Welsh Government we called on Assembly Members to introduce such a law to protect the common land of Wales.
The council also needs to clarify whether the applicant has the right to drive across the common.