Support us from £3/month
We deal with almost 1000 cases a year assisting communities, groups and individuals in protecting their local spaces and paths in all parts of England and Wales. Can you help us by joining as a member?
We are pleased that East Sussex County Council has responded to pressure from path campaigners and has replaced missing signposts on many public paths in the county.
Our local correspondents and other members reported missing signposts early in 2018, as part of the campaign to mark the fiftieth anniversary of the Countryside Act 1968 which introduced a duty on highway authorities to erect signposts where public paths leave a metalled road. East Sussex has responded by erecting new signposts in Burwash, Hartfield and Withyham, to name a few parishes.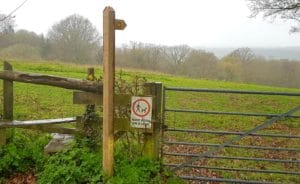 Says Brendan Clegg, our local correspondent for Eastbourne Borough and Wealden District: 'We were dismayed by the scandal of secret paths in East Sussex. If a path lacks a signpost, many people are deterred from using them. The path may be shown on the map but people need the confidence that they have the right to use it.
'East Sussex responded promptly to many of our complaints and we are delighted that the paths are now much more apparent on the ground. We hope that other highway authorities will follow its example.
'However, we know of at least one missing signpost which our Lewes correspondent reported, and has still not been replaced—the footpath through the grounds of County Hall in Lewes where the public rights-of-way team is based! Come on East Sussex and sort that one.'