Support us from £3/month
We deal with almost 1000 cases a year assisting communities, groups and individuals in protecting their local spaces and paths in all parts of England and Wales. Can you help us by joining as a member?
The Countryside and Community Research Institute (CCRI) of the University of Gloucestershire has published its new book, Commons—Governance of Shared Assets, coinciding nicely with World Book Day.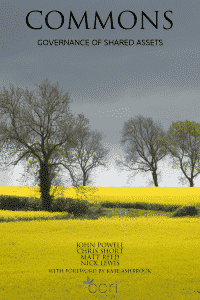 It can be downloaded as a pdf  or as epub from the university's website.
The book is a collection of recent blog posts on the CCRI website, centred on the theme of how we manage shared assets and what alternative approaches there might be, informed by research and practice in the governance of common resources.
In his introduction, John Powell explains that the whole area of commons and management of common-pool resources has become more topical over the last six years following the award of the Nobel Prize for Economics to Elinor Ostrom for her work on commons.  The book is a set of musings about a range of issues which the writers, John Powell, Chris Short, Matt Reed and Nick Lewis, have addressed in their professional activities, ranging from the local to the global.
Our general secretary, Kate Ashbrook has written the foreword.
When I first went to work for the Open Spaces Society more than 30 years ago I was familiar with the concept of common land and rights in England and Wales and was excited by the prospect of campaigning for them—and for the public's right to walk there. The law of commons is ancient, intricate and sometimes bizarre, but the subject is fascinating.
But it was not until the CCRI hosted the International Association of the Study of the Commons' biennial conference in Cheltenham in 2008 and I was invited to participate that I became aware of the wider concept of commons. I briefly met that doyenne of the commons, the late Elinor Ostrom, and I realised that commons were not only the ones I knew but, as this book shows, they embrace cities, fisheries, mountain walls, the internet, the stratosphere—and much more.
This book is an eye-opener. It encourages you to think differently about everyday things, such as graffiti, and dilemmas about public versus private (which is not such a straightforward distinction as it might seem).
Probably the most challenging is the chapter on the Paris Agreement.  Here John Powell demonstrates the difficulty of applying Ostrom's eight design principles (see pages 15-16) to problems of global commons such as climate change, because those principles are rather too relaxed and cannot support the imposition of sanctions. But it is imperative that nations co-operate to find a solution to such problems and, within the concept of commons, we can find a way.