Support us from £3/month
We deal with almost 1000 cases a year assisting communities, groups and individuals in protecting their local spaces and paths in all parts of England and Wales. Can you help us by joining as a member?
Dereham Walkers Are Welcome and the society are delighted that Mr Anema, the owner of Badley Moor common near Dereham in Norfolk, has erected a kissing-gate, giving access to the common.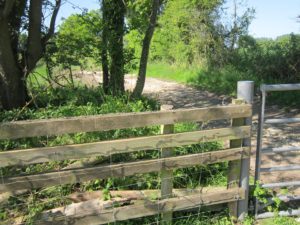 After some time when there was no effective access, a stile had been put up, but this failed to meet Natural England's accessibility criteria and remained a barrier to many people with restricted mobility. The public had rights of access here but people walking to the common on public footpaths were forced to stop at the boundary.
Now they can enjoy this attractive open space, a large area of spring-fed valley fen and grassland situated in the valley of the River Tud. Chalk springs emerge from the valley side and are marked by clearly-developed tufa formations where deposition of calcium carbonate has created a series of flushed hummocks. These structures are probably the finest tufa formations in Britain. An exceptionally rich calcareous fen community with a bryophyte (moss) carpet occurs on the flushed slopes. This community has remained undisturbed and is an excellent example of a very localised habitat and includes many uncommon plants.
Says Ken Hawkins of Walkers Are Welcome Dereham: 'We are delighted that this access has finally been provided and we encourage people to look at this ancient common, also a Site of Special Scientific Interest (SSSI). It can be accessed from a lengthy public footpath running from Dumpling Green east to Mattishall Road, an extremely pleasant walk in its own right.'
Adds Kate Ashbrook, our general secretary: 'It is excellent that people can exercise their rights to enjoy this lovely common which has been barred to them for so long, thanks to the generosity of Dereham Town Council in providing the kissing-gate.'