Support us from £3/month
We deal with almost 1000 cases a year assisting communities, groups and individuals in protecting their local spaces and paths in all parts of England and Wales. Can you help us by joining as a member?
The society is delighted that the Watercress Walk in west Wiltshire has been recognised as a public path, following a public inquiry in September.
The route runs through woodland and by a stream east of Luccombe Mill in the parishes of Bratton and Edington and crosses land owned by Mr Henry Pelly of Luccombe Mill, and Wessex Water.
Known as the Watercress Walk, the path has been used by villagers for more than 60 years but was blocked when a new owner moved into the mill in August 2016. Eighty-one people gave witness statements to get the path recorded as a public right of way on the definitive map. Wiltshire Council supported the application but there were objectors and so the matter was referred to the Planning Inspectorate to determine, on behalf of the Secretary of State for Environment, Food and Rural Affairs.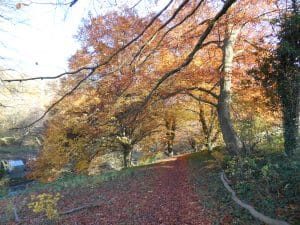 An inquiry was called at which the council was represented by barrister Trevor Ward and rights-of-way officer Craig Harlow. The applicant (Philip Workman) represented the supporters and called several witnesses. The landowner was represented by Mr Peter Village QC and his junior Jonathan Darby. Wessex Water did not object to the order.
The inspector, Heidi Cruickshank, considered all the evidence and ruled that the path should be added to the map.
Says Philip Workman: 'This is a wonderful result and the villagers are delighted that this beautiful, peaceful path has been restored for the public to use and enjoy over future generations.'
We are extremely pleased that this important and much-loved route has been saved and will now be reopened for public use.