Support us from £3/month
We deal with almost 1000 cases a year assisting communities, groups and individuals in protecting their local spaces and paths in all parts of England and Wales. Can you help us by joining as a member?
The Cabinet Secretary for Environment and Rural Affairs, Lesley Griffiths, has approved a controversial application by RWE Innogy UK Ltd to erect wind turbines and associated infrastructure on Mynydd y Gwair and adjoining commons north of Swansea.
The society, represented by Clare Moseley, was among the many objectors at a public inquiry in February; this was about the developers' proposal to construct works on common land and to swap areas of common land to enable the wind farm to be built.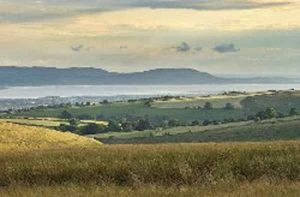 The 16 wind turbines will tear the heart out of this magnificent hilltop common. This is Swansea's green lung, where people have the right to roam free, on foot and horseback. We argued that the proposed replacement common land is grossly inferior to the land to be taken from the centre of the common and that the development would be a devastating intrusion in the landscape.
The public-inquiry inspector, Clive Nield, conceded that 'the construction of 16 very tall structures and a long length of access track over the commons would inevitably change its character from that of a wild, open expanse to a landscape with an element of industrial-style development'. He concluded that the wind farm 'would be detrimental to the appearance of the commons and the majority of people's enjoyment of them'. Nevertheless, because he believed the scheme would bring substantial benefits, to the economy and renewable energy targets, he recommended that it go ahead.
We fear this will set a damaging precedent. We believe that the tests for exchange of common land have not been met, but the inspector and minister brought into the equation their view that the scheme would bring other benefits, which tipped the balance in favour of the wind farm. It is a sad day for South Wales, that this wonderful place should be trashed.
We shall support Save Our Common Mountain Environment (SOCME) in considering what further action might be possible to save this treasured mountain.'
Objectors at the inquiry included SOCME, the West Glamorgan Commoners' Association, local graziers, a vet, an ecologist, Pontarddulais Town Council and the Gower Society (which would like to see Mynydd y Gwair included in the Gower Area of Outstanding Natural Beauty).