Support us from £3/month
We deal with almost 1000 cases a year assisting communities, groups and individuals in protecting their local spaces and paths in all parts of England and Wales. Can you help us by joining as a member?
Climate Cymru is a campaign working for meaningful, evidence-based and fair action to protect the Wales we love from the climate and nature emergency. The campaign wants to make sure the voices of ordinary people from all over the country are heard by the people in power.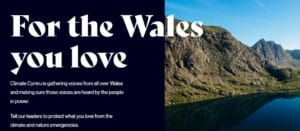 Climate Cymru is aiming to take 50,000 voices to COP26, a major UN environmental summit happening in Glasgow later this year. The more people join the campaign, the more powerful the message will be.
It's quick and easy to add your name, and by doing so, you are sending a message that you care about Wales' future and the climate and nature emergency. Once you've added your name you also have the option of telling the campaign what exactly you care about. They are bringing these voices directly to our leaders.
The society is a proud partner of this campaign, and we encourage productive engagement in the democratic process.
To 'add your voice' to the campaign click here