Support us from £3/month
We deal with almost 1000 cases a year assisting communities, groups and individuals in protecting their local spaces and paths in all parts of England and Wales. Can you help us by joining as a member?
We have objected to an application from Carsten Raun to hold a German beer-festival on Acton Green common, Ealing, for five days this August.  Ealing Council has written to local residents to say that it intends to allow this.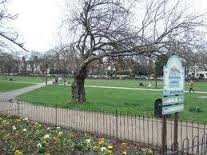 We argue that the Oktoberfest is unlawful under the Greater London Parks and Open Spaces Order 1967 which outlaws certain activities on common land.  Even if the council does not accept that, the event still requires the consent of the Secretary of State for Environment, Food and Rural Affairs because it involves temporary structures on common land.
We are deeply concerned that it is proposed to hold this commercial venture on common land.  It will destroy the peace and tranquillity for residents and those who wish to visit the common for quiet enjoyment.
We are supporting local groups in fighting the plan.