Support us from £3/month
We deal with almost 1000 cases a year assisting communities, groups and individuals in protecting their local spaces and paths in all parts of England and Wales. Can you help us by joining as a member?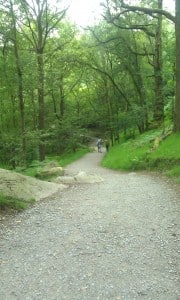 We have objected to applications to develop common land at White Moss near Grasmere in the Lake District National Park.
The Lake District National Park Authority has refused two planning applications from Jim Lowther, brother of the eighth Earl of Lonsdale who is custodian of the family's estate.
The Lowther Estate wants to build a pretentiously-named 'Welcome Hub' at White Moss, on the A591 between Grasmere and Rydal, to include an events venue, retail outlet, catering facility and bike hire, as well as suburbanising the footpaths in the area.
It has appealed against the refusal of planning permission and has also, belatedly, applied for consent to site this development on Grasmere and Loughrigg Commons, to which we have objected.
We are appalled that the Lowther Estate persists in wanting to Disneyfy this unspoiled corner of the Lake District National Park. The plans are completely out of keeping with this low-key, tranquil site and will conflict with the rights of the public to walk and ride here.
We were pleased when the park authority twice rejected the planning applications, and hope that the Planning Inspectorate will reject the appeal as well as the application for works on the common.
Other objectors to the planning applications included the Friends of the Lake District, Lakes Parish Council, Ramblers and a number of individuals.