Support us from £3/month
We deal with almost 1000 cases a year assisting communities, groups and individuals in protecting their local spaces and paths in all parts of England and Wales. Can you help us by joining as a member?
We have objected to a proposal by the Ministry of Defence to close the public footpath through Okehampton Camp on the northern side of the Dartmoor National Park.
The society argues that this will be a blow to the public who will lose a direct footpath between Okehampton and the moor and be forced to walk around the camp's perimeter. The society cannot understand why the MoD suddenly wishes to close this route when the services and the public have coexisted satisfactorily here for decades.
The proposal is made under section 247 of the Town and Country Planning Act 1990 as extended by section 8 of the Land Powers (Defence) Act 1958.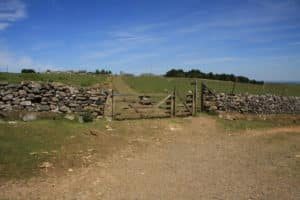 This closure can only be confirmed if the decision maker, the Secretary of State for Transport, is satisfied that it is necessary to close the route in order for the land to be used efficiently without danger to the public. There has been a public footpath through the camp for as long as anyone can remember, and we are not aware that it has affected the efficiency of the camp, nor that the public has been in danger. We therefore aver that the legal requirements are not met.
Furthermore, the proposed new highway is very much less convenient to the public, forcing people to walk almost twice the distance around the boundary of the camp. Most users of this path are likely to be travelling between the town of Okehampton and the moor, and the route through the camp is the most direct—for residents and visitors.
In this seventieth-anniversary year of the National Parks and Access to the Countryside Act 1949, which gave us national parks such as Dartmoor, we should be making the parks more accessible to the public, not closing public paths in them.
We have urged the Secretary of State for Transport to reject the proposal.