Support us from £3/month
We deal with almost 1000 cases a year assisting communities, groups and individuals in protecting their local spaces and paths in all parts of England and Wales. Can you help us by joining as a member?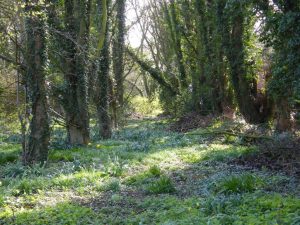 An unauthorised oil-tank on Watton Copse, Driffield, has been removed. This follows refusal of planning permission by the East Riding of Yorkshire Council. The Open Spaces Society, Watton Parish Council and 42 local people opposed the application.
A year ago, owners of a neighbouring property in Vicarage Close, Watton, had placed an oil tank in the wood which is amenity land owned by the East Riding of Yorkshire Council. The council refused to take enforcement action despite repeated requests from local people. The adjoining owners then sought consent to use the land for domestic purposes, including car-parking, and retrospectively for the oil tank.
Once consent was refused, the East Riding of Yorkshire Council's enforcement officer issued an enforcement notice, but the neighbours moved speedily to remove the unlawful tank and place one on their own property.
We are pleased that this lovely wood has at last been freed of this ugly, unauthorised excrescence. Now local people can once again enjoy freedom to roam in this unsullied woodland. We congratulate them on their achievement.