Support us from £3/month
We deal with almost 1000 cases a year assisting communities, groups and individuals in protecting their local spaces and paths in all parts of England and Wales. Can you help us by joining as a member?
The Open Spaces Society has objected to a draft alley-gating order, made by Windsor & Maidenhead Council, which would close a valuable footpath between Culley Way and Farmers Close in Cox Green.  The council's Alley Gating Panel considered that the path should be gated because of alleged crime and anti-social behaviour in the area, despite objections from the Open Spaces Society and the Berkshire Ramblers, among others.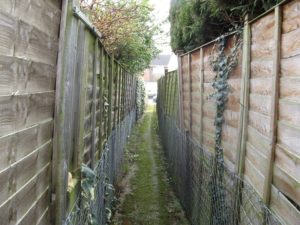 Says Kate Ashbrook, general secretary of the Open Spaces Society: 'We object most strongly to the gating of this path, which will privatise a public highway and encourage adjoining householders to treat it as their own land.
'We do not believe that the necessary tests for gating the path have been met.  Before agreeing to gate a public path, the council must be satisfied that premises adjoining the route are affected by crime and anti-social behaviour, that the existence of the route is facilitating those offences and therefore that, if the route wasn't there, the offences would cease.
'But the council's Community Safety Projects Officer, Jenni Howells, has not produced such evidence.
'Furthermore, the council must be satisfied that there is a reasonably convenient alternative route.  Astonishingly, Ms Howells claims that the alternative route is "a little longer, if not the same distance"—yet it is three sides of a rectangle alongside roads bearing vehicular traffic, and clearly significantly further and less convenient for pedestrians.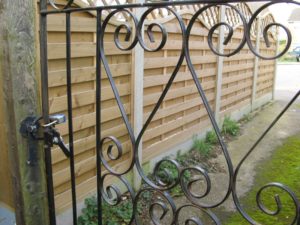 'The route which is proposed for gating has not yet even been added to the official map of public paths, the definitive map although the council has now made an order to add it.  However, the council clearly recognises that it is a public highway or it would not be proposing to alley-gate it under the highway law.
Someone has padlocked the alleyway, which is an illegal obstruction on a public highway, and we have called on the council to exercise its legal duty and reopen the path.  If it was well-lit and made welcoming, it would be used by the public; that would ensure there was no anti-social behaviour because the public would deter potential malefactors.
'So we trust the council will change its mind and decide in the light of the objections not to alley-gate this useful path,' Kate concludes.