Support us from £3/month
We deal with almost 1000 cases a year assisting communities, groups and individuals in protecting their local spaces and paths in all parts of England and Wales. Can you help us by joining as a member?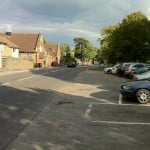 We have deplored the unlawful construction of a cycle track on registered common land at Fair Green beside West Hill, Epsom in Surrey. Contractors for Crest Nicholson, Galliford Try and Linden Homes have built a cycle track on the common, pre-empting the organisations' application for consent for the works.
We objected to the application. It argued that the cycle-path does not have to be built on unspoilt common land; there is plenty of space within the parking area on West Street.
The Secretary of State's policy guidance on applications for consent for works is that if there is a better solution she may refuse consent.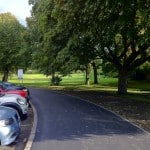 We are dismayed that the applicants have forged ahead without waiting for consent. If the consent is refused, as we hope it will be, they will have to restore the common to its former state. They should have waited a few weeks to learn the outcome.