Support us from £3/month
We deal with almost 1000 cases a year assisting communities, groups and individuals in protecting their local spaces and paths in all parts of England and Wales. Can you help us by joining as a member?
On 19 July the Planning Inspectorate will hear an appeal against Anglesey Council's refusal of a planning application for a new dwelling at the rear of Penmarian Mawr, Llangoed.  The development would be in the designated Area of Outstanding Natural Beauty (AONB) and includes a new access across registered common land.
We have objected to the application because of its adverse effect on the AONB and the common.
Says Kate Ashbrook, the society's general secretary: 'We oppose this development which would be an eyesore in this lovely landscape with its fascinating historic features and listed buildings.  It would also pose a threat to the adjoining common.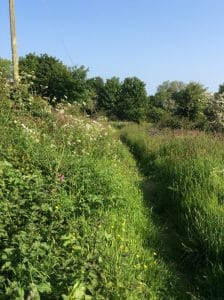 'The new access to the property would be across registered common land, and the applicants, Mr and Mrs Wood, would therefore need consent from Welsh ministers as well as planning permission.  There have been other cases in the locality where people have obtained planning permission for works on common land and the applicant has ignored the law and gone ahead without getting common-land consent first.
'Unfortunately there is no duty on local authorities to take action against unlawful encroachments on common land, and although the public has the power to do so, it should not be left to individuals to act.  We are pressing Assembly Members to change the law so as to require local authorities to act in defence of commons.
'In addition, it is an offence to drive without lawful authority (such as the permission of the landowner) more than 15 yards from the road, so anyone driving across the common could be committing an offence under section 34 of the Road Traffic Act 1988.
'Here at Pen y Marian the adjoining common is of immense natural beauty and of value as a wildlife habitat.  Everyone has the right to walk here and to enjoy the scenery.  We consider this to be the wrong place for a new property and access route and we hope that the inspector will reject the appeal,' says Kate.