Support us from £3/month
We deal with almost 1000 cases a year assisting communities, groups and individuals in protecting their local spaces and paths in all parts of England and Wales. Can you help us by joining as a member?
Open Spaces Society member and vice-president, Tony Greaves, has reported on the successful voluntary registration of Barnoldswick Town Green in Pendle, Lancashire. The town green is an area of grass and trees in the small town of Barnoldswick (Barlick) and is a much-valued green space near the centre of the town which is well used by families for informal recreation.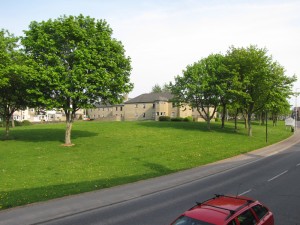 It belongs to Pendle Borough Council and was reclaimed from former coal sidings over 30 years ago. After the Commons Act was passed in 2006 Tony Greaves suggested to colleagues in Barnoldswick that they should ask Pendle Council to apply as owners formally to register it as a town green, which it did.
Council staff at first objected – "We know you don't want to build on it but a future council might want to do so." Tony replied that this was the whole point of the voluntary registration now!
It took some time for the registration authority Lancashire County Council to approve the proposal – due to being one of the pilot authorities for registering commons and greens – but that has now taken place.
Tony Greaves said that it was nice to have been able to take advantage of a provision that he had first put forward as the Commons Bill was being discussed in the Lords.