Support us from £3/month
We deal with almost 1000 cases a year assisting communities, groups and individuals in protecting their local spaces and paths in all parts of England and Wales. Can you help us by joining as a member?
'The South Downs National Park was achieved by a mixture of vision and persistence.' So said Kate Ashbrook, general secretary of the Open Spaces Society, Britain's oldest national conservation body, at a rally organised on 1 April by the Hampshire and Sussex Ramblers at Queen Elizabeth Country Park, Petersfield.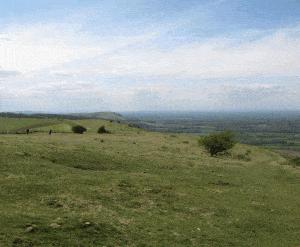 The event was to mark the second anniversary of the establishment of the National Park, and the first anniversary of the National Park Authority taking up its statutory powers. Other speakers were Margaret Paren, chairman of the authority, and Benedict Southworth, chief executive of the Ramblers.
Said Kate: 'Hundreds of people were involved, over decades, in the campaign for the South Downs National Park. It was a huge achievement when park status was finally confirmed— a true example of collective action.
'However, we cannot assume that this wonderful area is now safe. Here in the busy South East there are development pressures all around. Although National Parks fared well in the National Planning Policy Framework, which the government published last week, we cannot be complacent. Much will depend on how local authorities interpret the new wording. We must be vigilant and protect the landscape surrounding the national park as much as the park itself, to ensure that when we stand on high spots such as Butser Hill or Ditchling Beacon we do not see further suburbanisation creeping up to the park boundary.
'And of course we must get out and enjoy this splendid, unique landscape and spread the word about this special place,' said Kate.