Support us from £3/month
We deal with almost 1000 cases a year assisting communities, groups and individuals in protecting their local spaces and paths in all parts of England and Wales. Can you help us by joining as a member?
Congratulations to our member the Penn & Tylers Green Residents' Society in Bucks who have won a five-year campaign to register two verges as village green and have set an excellent example to other communities.
The land consists of two, wide, roadside verges leading from the Hazlemere to Penn road (the B474) into Coppice Farm Road.  The society's aim was to keep the greens free of commercial development, as open, green space for public enjoyment as they have been for 60 years.  When the campaign started in 2008 the land belonged to Wycombe District Council who was proposing to sell the larger verge for property development.
The society gathered evidence of use for informal recreation from local people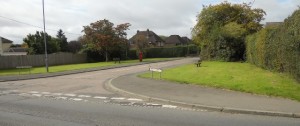 and submitted the application for a green to Bucks County Council.  Despite the wholehearted support of Penn and Chepping Wycombe Parish Councils, and of parish, district and county councillors, the application was rejected on a disputed technicality centering on whether or not every square foot of the land had been walked upon by residents.
Working with the legal department of Bucks County Council, the residents submitted a further application in the autumn of 2011.  Wycombe District Council gave an assurance that it would not object.  However residents were shocked to discover that in December 2011 the land had been transferred to Red Kite Housing Association and they hadn't even been told.
Agreement
During 2012, the residents met Red Kite several times and, after months of negotiation, reached agreement in principle on the terms under which they might purchase the greens.  At that time the government's Growth and Infrastructure Bill looked set to prevent them from securing registration of registering the green. There was delay in Bucks County Council hearing the second application. So in August 2012, the residents decided that the only way to secure the land was to purchase it from Red Kite and register it voluntarily as a green.  This they did, completing the purchase in June 2013 and registering the green in September.
If they had left it any longer, it is likely that the Growth and Infrastructure Act would have prevented the land from being registered and it could have been lost.  Instead it is safe for all time, thanks to the energy and persistence of the residents' society.
We urge communities to identify now any land which is eligible for registration as a green and to apply to register it before it's too late.  In addition, if you own land which you want to secure for public enjoyment, you can register it voluntarily.