Support us from £3/month
We deal with almost 1000 cases a year assisting communities, groups and individuals in protecting their local spaces and paths in all parts of England and Wales. Can you help us by joining as a member?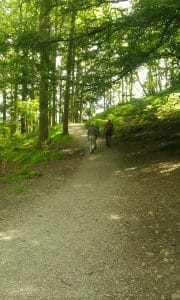 We shall appear as an objector at a public inquiry on Tuesday (9 August) into plans by Jim Lowther to develop common land at White Moss near Grasmere in the Lake District National Park. The inquiry is being held at the Lake District National Park Authority offices, Murley Moss, Oxenholme Road, Kendal, Cumbria LA9 7RL, starting at 10am.
The Lowther Estate wants to build a pretentiously-named 'Welcome Hub' at White Moss, on the A591 between Grasmere and Rydal, to include an events venue, retail outlet, catering facility and bike hire, as well as suburbanising the footpaths in the area. The public has the right to walk and ride over this common.
Because the development affects common land, the estate must obtain the consent of the Secretary of State for Environment, Food and Rural Affairs, under section 38 of the Commons Act 2006. Since there are a number of objections, the Planning Inspectorate has called a public inquiry. At the same time, the inspector will hear the estate's appeal against the Lake District National Park Authority's refusal of planning permission for the development.
We shall be represented by Ian Brodie.
Says Ian: 'We are pleased to be joining with the Ramblers, Friends of the Lake District and local residents in resisting this attempt by Lowther Estates to bring a commercial activity into the heart of open country in the central Lake District. The value of common land to the national park and to the bid for World Heritage Site inscription will be under close scrutiny during the inquiry. It is sad that the applicants claim that senior officials from the national park suggested they seek this development which is contrary to the park's own planning policies.'