Support us from £3/month
We deal with almost 1000 cases a year assisting communities, groups and individuals in protecting their local spaces and paths in all parts of England and Wales. Can you help us by joining as a member?
The Friends of Haven Green and the Open Spaces Society are defending Haven Green (which is common land) at a hearing on Thursday 25 September.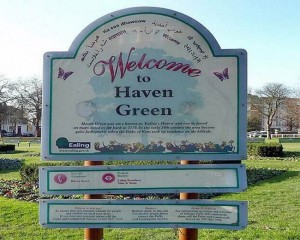 Ealing Council wants to widen a footway, erect temporary fencing, renew the footways and swap the land occupied by the old bus-layby, which will become common, for other land which will be deregistered and will become highway.
Because the development affects registered common land the matter must be decided by the Planning Inspectorate on behalf of the Secretary of State for Environment, Food and Rural Affairs.
Will French of the Friends of Haven Green will speak for the Open Spaces Society at the hearing.
Says Will: 'We object to the exchange of common land. The bus layby was taken from the common unlawfully, returning it to common and grassing it over is merely to repair a previous wrong. It would not be recompense for the loss of common land required for footway widening.
'We are concerned about past unlawful encroachments on the green which have resulted in its degradation, and undermine its purpose as a place of public recreation.
'Haven Green is a historic site, it has been common land since the middle ages and more recently was managed as public green space.
Both the Friends and the Open Spaces Society consider that Ealing Council is neglecting its duty to care for this important and popular site.'